The Green Flag: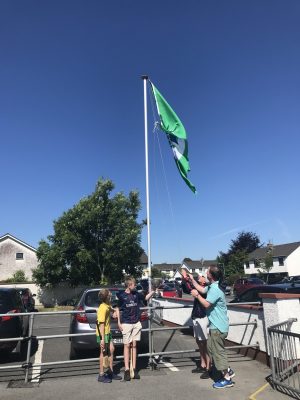 The Coiste Glas, made up of students, teachers and parents, was set up in 2013. We have found it to be very valuable and worthwhile for the children as each flag gives us the opportunity to focus on making our lives greener at home and at school. The committee meets regularly to discuss different topics and ideas.
We have received two greens flags up to the present time. The first flag awarded was regarding recycling and the second was in relation to  energy saving. Presently, the Coiste Glas are working towards attaining the third flag for water. We are looking at ways in which we can improve our approach to saving water at home and at school.
We will working hard towards this and hopefully our third flag will be with us in the near future.
The School Garden
Children are always very busy working in our beautiful school garden. Children water plants, lay seeds and even make their own bug hotels. Our expert gardener, Mary, is regularly in the school guiding and advising the children on how best to look after the garden. I'm sure you'll all agree they are doing a great job. Maith sibh a pháistí agus Mary!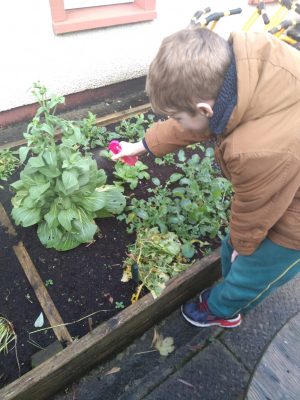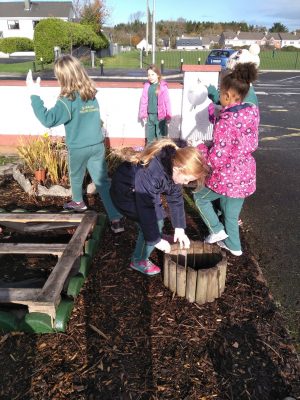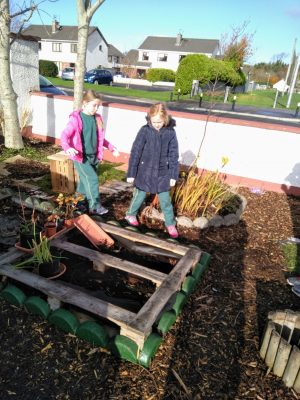 Be Active Flag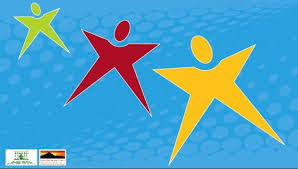 The staff and children are currently working towards obtaining the "Be Active Flag. Activities are taking place all year aimed towards reaching the criteria for receiving the flag. Between "Be Active Week", Be Active Homework, Skipping Days, The Mile Challenge and all other sporting activities taking place in the school, one can say we are a very active school